It's likely that every website, blog, mobile app and ecommerce store has a Terms and Conditions agreement posted, and for good reasons.
The Terms and Conditions agreement explains appropriate and allowed use of the website or app, what users can and can't do on the site, what user rights are, and what information legally belongs to the company. In order to use the product or service, you must agree to abide by its Terms and Conditions.
Here, we'll take a closer look at what a Terms and Conditions agreement is and why it's important to have one for your online business.
By the time you're finished reading this article, you'll have a better understanding of the different clauses that should be considered when creating your Terms and Conditions agreement, why they're important, and how different businesses display Terms and Conditions on their sites.
Understanding a Terms and Conditions Agreement

A Terms and Conditions agreement (also known as a Terms of Use or Terms of Service agreement) is a legally enforceable agreement that lays out the rules users must abide by in order to use a website, mobile app, or service.
After a user agrees to the Terms and Conditions, both the company and the user are in a position to enforce the terms of the agreement. The company can do so by refusing their service to customers who fail to comply with the agreement. Customers can file a lawsuit if they're able to prove a breach in the Terms and Conditions they agreed to.
Typically, a Terms and Conditions agreement will contain sections and clauses that define and clarify key terminology and phrases, the end user's rights and responsibilities, disclaimers, and information on how the user will be notified if the Terms and Conditions are modified.
For example, GitHub's Terms of Service page has a section on the definition of the terms used throughout the agreement.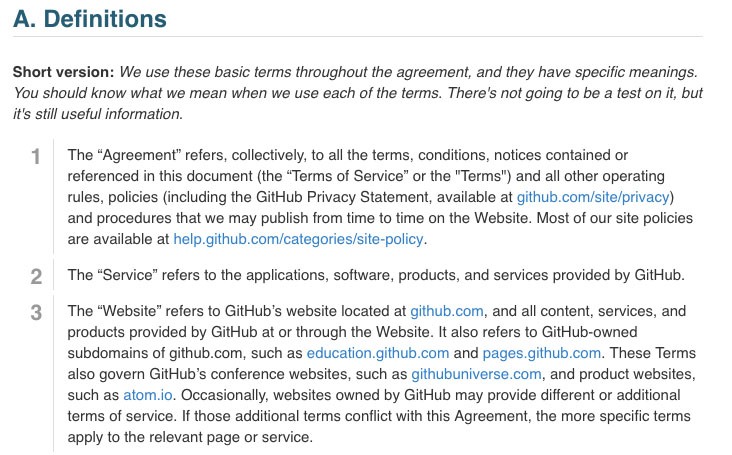 Generally speaking, there are six main types of clauses that companies include in the end user's rights and responsibilities section of their Terms and Conditions agreement:
Expected usage of service

- This clause defines how the end user is expected to use the service. In some cases, it also details what misuse of service means.

Accountability for actions

- How will the end user be held accountable for their behavior and actions in the event of misuse?

Privacy Policy

- It can also include a clause linking to or briefly describing the company's Privacy Policy agreement.

Payment details

- The payment details section describes everything related to payments such as how the end user will be charged for the service, explanation of the subscription model and fee structure, etc.

Opt-out policy

- If an end-user

wants to opt out of the service or a value-added service

, what is the process for doing so? What rules surround account termination and what is the procedure that needs to be followed?

Information on arbitration

- An explanation of the

dispute resolution

process and what needs to be considered before either party can take a claim to court.
YouTube's Terms of Service page details the General Use of the Service - Permissions and Restrictions, which explains that the end users can access and use YouTube's services as long as they agree to follow certain rules.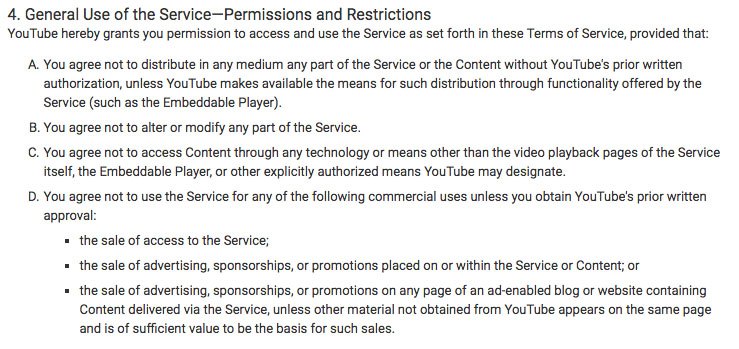 We'll look at these clauses in more detail in the following sections. What's important, however, is that a Terms and Conditions agreement allows you to protect your business by allowing you to establish your legal rights in writing.
Why Terms and Conditions Agreements are Useful

It's worth noting that, unlike a Privacy Policy agreement, having a Terms and Conditions agreement on your website or mobile app is not required by law.
That said, having a Terms and Conditions agreement in place is highly encouraged and recommended because it's in the interest of your company to limit your liability and minimize potential misuse of your services.
Simply put, without a Terms and Conditions agreement you would have no way of legally defining or enforcing how people can use the services you're offering, or what they can and cannot do with them.
With a Terms and Conditions agreement in place, business owners can rest assured that their customers and clients won't violate the terms of the agreement. In the event that they do, the rules should clearly define the procedure that will be followed.
Let's look at an example. If, for instance, you are running a private forum and don't want your site's users to be posting content that's in violation of copyright law, you could include a clause in your Terms of Conditions agreement that states the procedure you've adopted if a user posts content that violates copyright law. You might temporarily suspend the account or even terminate it, for example.
Terms and Conditions are useful for most websites - especially those with some sort of login or registration requirement and those operating in the e-commerce space.
Here are a few more reasons why it's a good idea to establish rules and guidelines in your Terms and Conditions:
1. You Can Define Rights and Ownership
First and foremost, the rules you specify in your Terms and Conditions agreement can help you protect your business by making sure there isn't any form of uncertainty or confusion between you and your customers. They allow both parties of the agreement to understand their rights and responsibilities.
In addition to this, a Terms and Conditions agreement gives you the opportunity to declare which content belongs to you.
For instance, as the owner of a web application, you would want to state that the site's branding elements, design, content, and web application software belong to you and are protected by copyright law.
2. You Can Limit Your Own Liability
Another reason a Terms of Conditions agreement is useful is that it lets you legally limit your liability in cases where, for example, your content isn't accurate or your services become unavailable.
The purpose of this clause is to let your customers know that you cannot be held responsible in case of any potential liability issues pertaining to the customer's privacy, auto-renewal of subscription fees, unauthorized screen/data scraping or other mishaps.
3. You Can Establish the Governing Law
Suppose you run an online store for a business that's registered in California but caters to a global audience. If a customer in the United Kingdom wants to file a lawsuit against you, would the laws of the United Kingdom apply or would the laws of the United States and the laws of the State of California be applicable?
Including a governing law clause in your Terms and Conditions agreement clearly states which laws will apply in the event of any legal disputes.
Some companies - especially those with more geographic reach - define multiple governing laws for users based in different locations. This is incredibly important and, therefore, should be carefully considered because one country's law is often considerably different from another's.
Useful Clauses in a Terms and Conditions Agreement

In principle, a Terms and Conditions agreement lays out the rules that define how customers and clients can use your services, web application, or mobile application. Those rules, when added to the agreement, become clauses.
Here are some examples of clauses that are useful to add to a Terms and Conditions agreement:
Use of Website Clause
A use of website clause details what users can and cannot do on your website once they've agreed to use your services. In some cases, the use of a website clause is split into individual points that explain what users cannot do. These points attempt to cover all of the negative use case scenarios.
Here's a look at YouTube's Terms of Service again: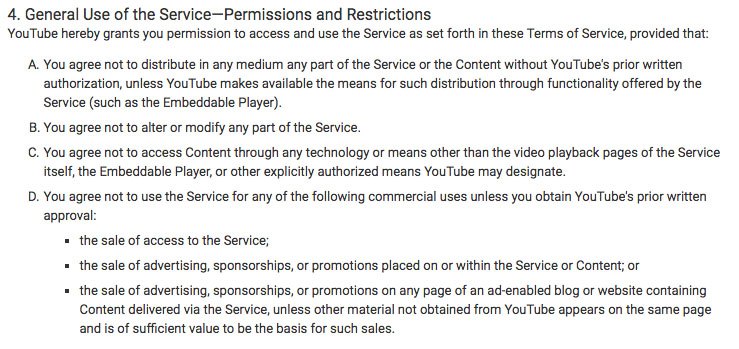 See how each sub-clause starts with You agree not to...? Instead of telling visitors how they can use YouTube, it details everything they can't do instead.
Termination Clause
The use of website clause is an important part of the Terms and Conditions agreement because it defines the rules. The termination clause is important because it defines the consequences.
In the termination clause, you should list the activities or scenarios that would lead to account termination or website access termination. For example, you could inform customers that their accounts could be temporarily or permanently terminated if they fail to abide by the terms, if they're involved in illegal schemes, or for any reason at your sole discretion.
In its Terms of Service agreement, Quora states that users can close (disable) their accounts anytime they want to through their account's settings. It also states that the company may terminate accounts if users violate Quora policy or for any other reason.

User Submissions Clause
This next clause is specific to websites or apps that allow or encourage user-generated content, such as Instagram and Reddit.
Generally, user submission clauses begin with a listing of the different types of user-generated content that can be submitted. They also usually state that the company doesn't claim ownership to it. They also may inform users of what the company can do with user submissions.
So, for instance, if you wanted to modify and use photos submitted to your website by your users for your own advertising purposes, you could do that if you include your right to do so in your Terms and Conditions agreement.
Vox's Terms of Use has a fairly long User Submissions section which informs subscribers and contributors about the company's rights and responsibilities when it comes to user-generated content.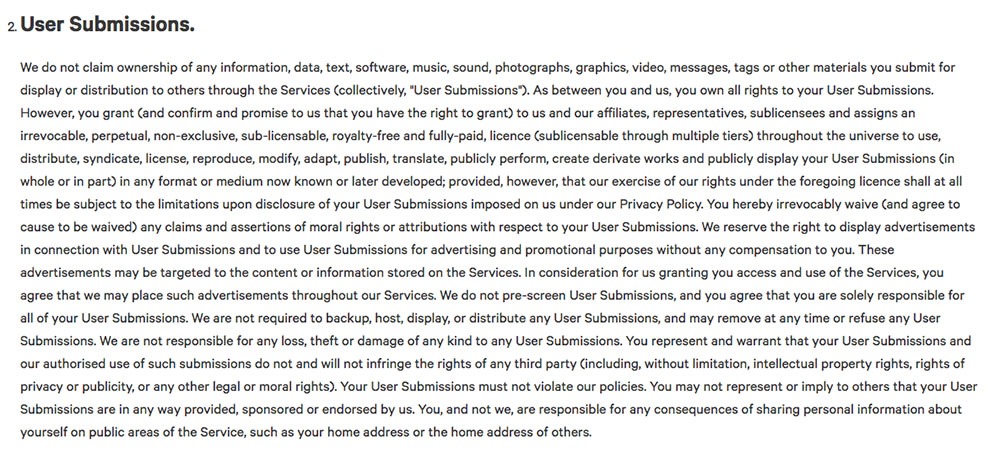 Copyright Infringement Clause
If you encourage user-generated content on your website, it's highly recommended that you also include a copyright infringement clause. The purpose of the copyright infringement clause is to provide a way for your site's contributors and readers to report copyright infringement to you so you can take appropriate action.
This clause can contain information about how your company handles the copyright infringement notices, what information needs to be included in the notice, and an email and mailing address for where to send notices of infringement.
The copyright infringement clause is important in the United States, in particular, because of the Digital Millennium Copyright Act (DMCA). Under this act, you can be held liable for copyright infringement that occurs on your website, even if you weren't responsible for it.
For this reason, sometimes the copyright infringement clause is included under a DMCA section. Canva's Terms of Use page includes a long description of how copyright violations and copyright infringement reports are handled.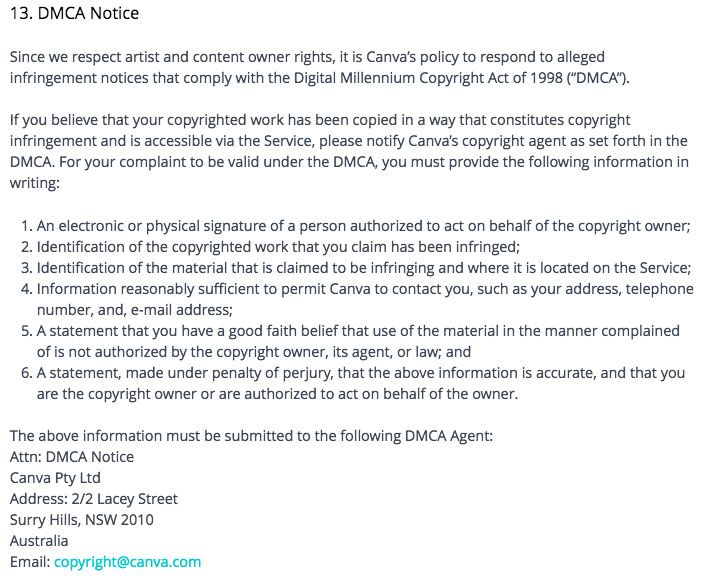 Disclaimer of Liability Clause
Whether you're offering services, hosting a web application, or selling digital/physical goods through your website, it's a good idea to include a clause that disclaims warranties and limits your liabilities. The disclaimer of liabilities clause can keep your business from being held liable in case your website experiences downtime, becomes inaccessible or for a number of other potential reasons.
If you've ever read through a Terms and Conditions agreement, you might have noticed that the disclaimer of liabilities section is usually formatted in bold or in all caps font, making it stand out prominently.
The Guardian's disclaimer of liability section covers the different situations for which they will not be held liable, including statements made in the content they publish, any loss that their readers experience, and the content published on sites they link to.
In addition to this, they also say that they don't give any kind of a warranty that their website is virus-free. And, near the end, they mention that they do not guarantee uninterrupted access to the website and will not be held liable for any delay.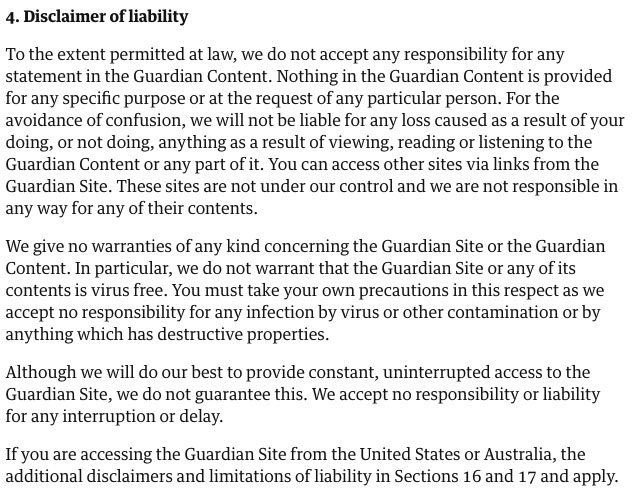 Intellectual Property Rights Clause
Almost every online business should include an intellectual property rights clause in their Terms and Conditions agreement. The purpose of this clause is to prevent your visitors from unlawfully using or downloading your intellectual property.
This clause informs website visitors that the branding elements, trademarks, content, and media items created by the company are the company's property and are legally protected under copyright laws.
Business Insider UK's Terms of Use lists the different intellectual property (content, features, and functionality) that belongs to Business Insider. It also informs visitors about the company's rights, and lists what users cannot do with the company's intellectual property.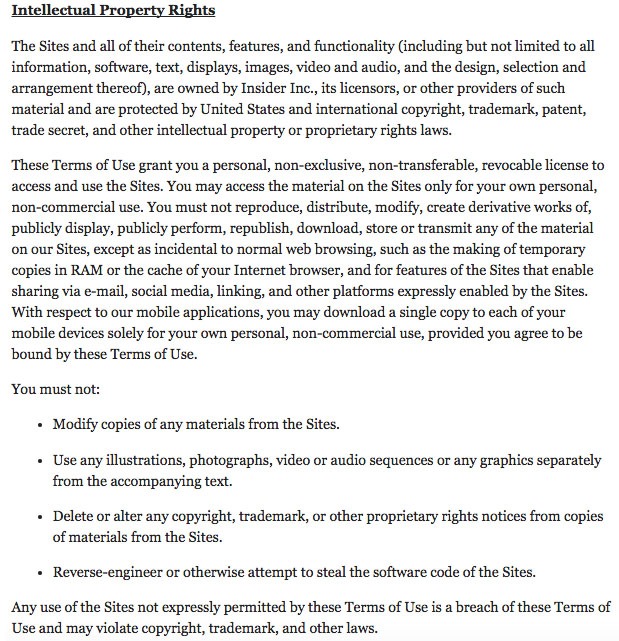 Governing Law Clause
As mentioned earlier, including a governing law clause (also called the applicable law) in your Terms and Conditions is important because it dictates which laws will apply in case any kind of legal issues surface.
For example, Netflix has a one-line governing law clause in their Terms of Use page which says that their Terms of Use agreement will be governed by the laws of the Netherlands.

Amazon's Conditions of Use page states that the Federal Arbitration Act, applicable federal law, and the laws of the state of Washington will govern the agreement.

Examples of Terms and Conditions
If you're running an online business through a website (whether it's an online store, a site promoting services, or a web application), it's important that you display your Terms and Conditions where it's easily accessible to your visitors.
Traditionally, the Terms and Conditions page is linked from the website footer. You can also link to it from your site's navigation menu. This is common in mobile apps that don't have static footers like websites do.
Here's how some popular websites display their Terms and Conditions agreements, as well as a list of clauses included in each agreement:
GitHub
GitHub has a sign-up form at the bottom of its homepage which links to the Terms of Service page from the fine print.

GitHub's Terms are quite lengthy and include clauses that are important to GitHub and its users:
Definitions
Account Terms
Acceptable Use
User-Generated Content
Private Repositories
Copyright & DMCA Policy
Intellectual Property Notice
API Terms
Additional Terms for GitHub Pages
Additional Terms for GitHub Marketplace
Advertising on GitHub
Payment
Cancellation and Termination
Communications with GitHub
Disclaimer of Warranties
Limitation of Liability
Release and Indemnification
Changes to these Terms of Service
Miscellaneous
To help users navigate the Terms of Use without having to read through the entire agreement to find something specific, GitHub has provided a summary section. This section includes a short sentence about what type of information each clause contains, as well as a link to the full clause if a reader wishes to find out more.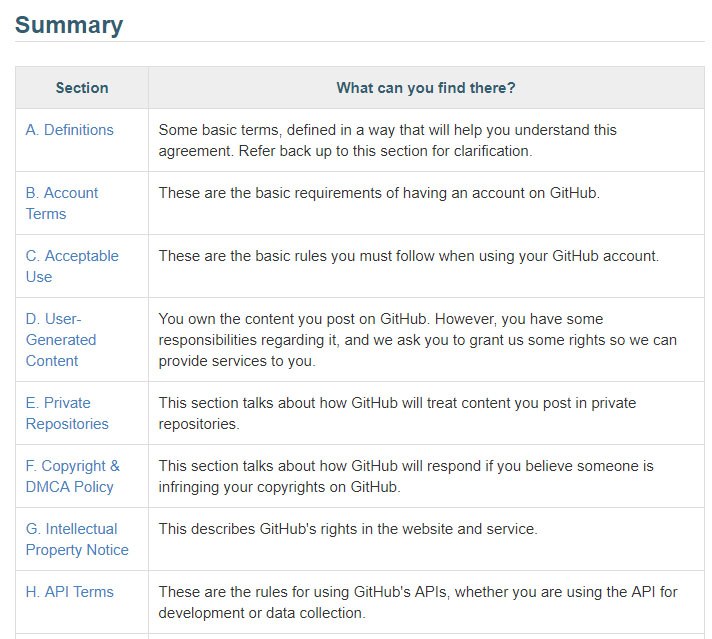 While this isn't required, it's a really nice formatting touch that your users will appreciate.
YouTube
YouTube links to its Terms page from the footer of its sidebar menu.

The Terms of Service agreement has a total of 14 clauses:
Your Acceptance
Service
YouTube Accounts
General Use of the Service - Permissions and Restrictions
Your Use of Content
Your Content and Conduct
Account Termination Policy
Digital Millennium Copyright Act
Warranty Disclaimer
Limitation of Liability
Indemnity
Ability to Accept Terms of Service
Assignment
General
Here's an example of how some of the clauses are formatted.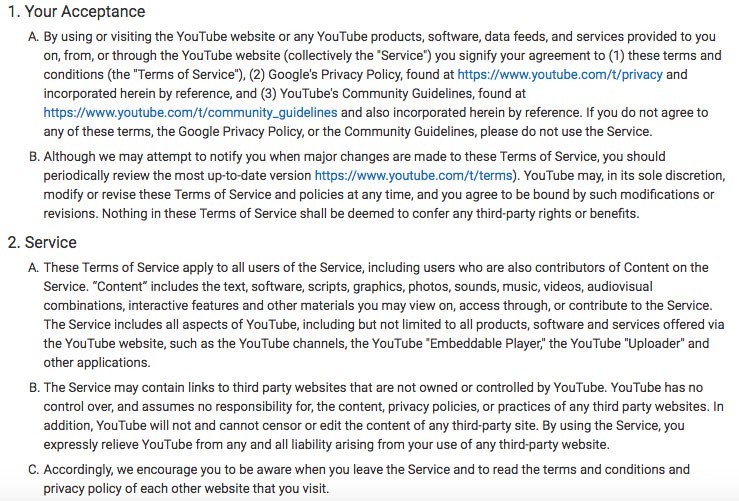 Quora
Quora's Terms of Service page is linked from the website's homepage, which also doubles as a login/registration form.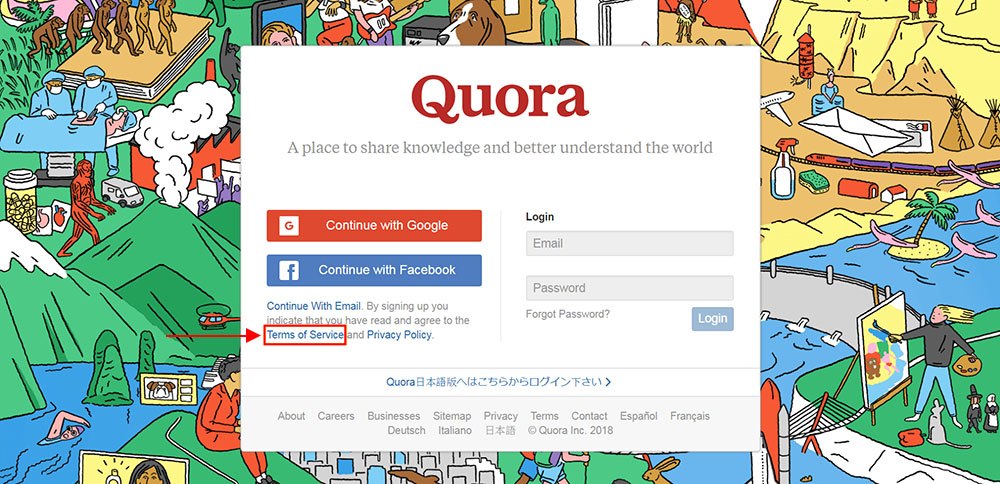 The Terms of Service features 11 clauses:
The Mission of the Quora Platform
Using the Quora Platform
Your Content
Our Content and Materials
Integrated Service Provider
More About Certain Offerings on the Quora Platform
Reporting Violations of Your Intellectual Property Rights, Quora Policies, or Applicable Laws
Disclaimers and Limitation of Liability
Indemnification
Dispute Resolution
General Terms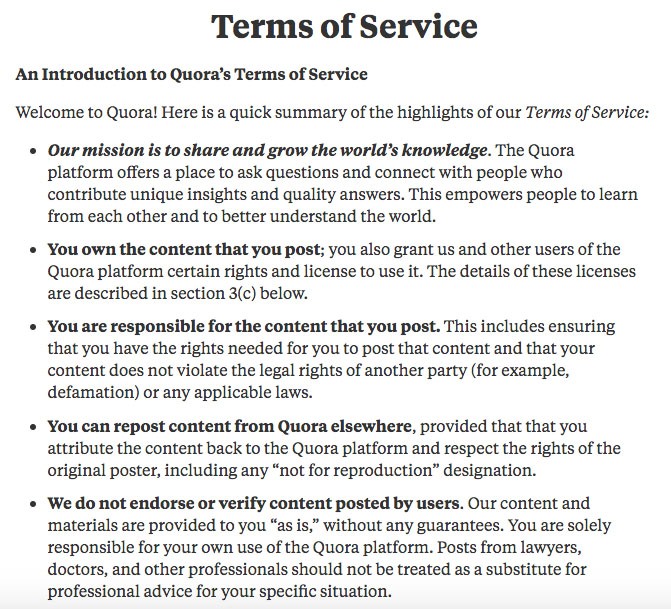 As you can see, each of these websites has different clauses, formatting and structure for its Terms agreement. While different, each establishes strong liability protections for the company, while providing easy-to-access and easy-to-understand information their users need to know.
Having a Terms and Conditions agreement for your website isn't required by law, but it's highly recommended that you do. You'll be able to take advantage of the many benefits of having a Terms and Conditions, including but not limited to:
Defining

rights

and ownership
Limiting your own

liability

Establishing the

governing law

Maintaining

control

over your website/app
Protecting copyrighted material
Keeping your site users informed of your rights and theirs
Be sure to provide an easy-to-find link to your Terms and Conditions and structure it in a way your site users can easily read and understand.
Terms and Conditions
Reviewed by
Cindy
on
12/04/2021
Rating: